Award-winning personal animation project, featuring parkour in a cyberpunk cityscape, crafted during a deep dive into animation directing.
Hey there, get ready to leap into the metaverse alongside iconic freerunners! It's a bold, challenging adventure that's completely exhilarating and it's all going down in 3D. Tune in for the premiere of my personal
Instagram reels animated series
where you'll learn to conquer your physique and spark your imaginative fire.
Parkour sparked my passion for photography and videography years back. Today, as an animator and game developer, I'm elevating the experience. It's a tribute to the art of movement, featuring my beloved athletes in eye-popping 3D glory. Catch the amazing
@Cherepko
, a virtuoso of freerunning, donned in the striking designs of
@Pamikov
in our latest mesmerizing release!
Animation Video:
About Project
I crafted this project as a skill honing adventure in 3D artistry and animation. Fueled by curiosity, I pieced together a high-octane 3D scene with the free powerhouse Blender and its real-time engine Eevee. It was more than just a drill; it was a deep dive into the thrill of parkour, marrying my professional growth with my personal zeal for the sport. This wasn't just about pushing pixels—it was about pushing limits.
Award
The reel took home '
Video of the Day
' from the
Motion Design Awards
—a site judged by genuine motion design gurus. While it may not be the most prestigious award I've received, it's my first for animation, not directing or cinematography. And since I personally created all the animation and environments, getting even a nod from the industry's best is incredibly gratifying to me. That's a real cause for celebration!
The process of creation (and complexities)...
For this project, I captured a freerunner's motion in the Optitrack studio and then spent countless hours fixing endless animation glitches and twisted rig bones. I initially thought recording the artist's movement would suffice, but I was way off mark. Even a top-tier motion capture system like
Optitrack
couldn't flawlessly track the rapid movements of a freerunner.
Correcting these errors fell squarely on my shoulders as the animator.
Additionally, I designed a character with a skeletal system in
Reallusion's Character Creator
(CC), creating a custom retargeting profile for Optitrack to bypass the hefty
$1,590 cost of Reallusion's plugin
.
It seemed unreasonable to splurge on such a system for a pet project.
The design of the clothing and helmet for the character was crafted by the 3D artist
Pamikov
, with whom we collaborated to give the project an artistic edge. Additionally, my expertise in fabric simulation was limited, and for the directorial vision, I wanted the clothing to behave naturally.
However, to get everything to work properly, we had to retopologize all objects and jointly prepare all assets to be animation-ready.

For this project, I engineered a virtual street scene, piecing it together with high-quality yet affordable assets sourced from Sketchfab and CGTrader. To create the building exteriors, I projected Google Street View textures onto basic cube shapes—a clever hack for result on a low budget.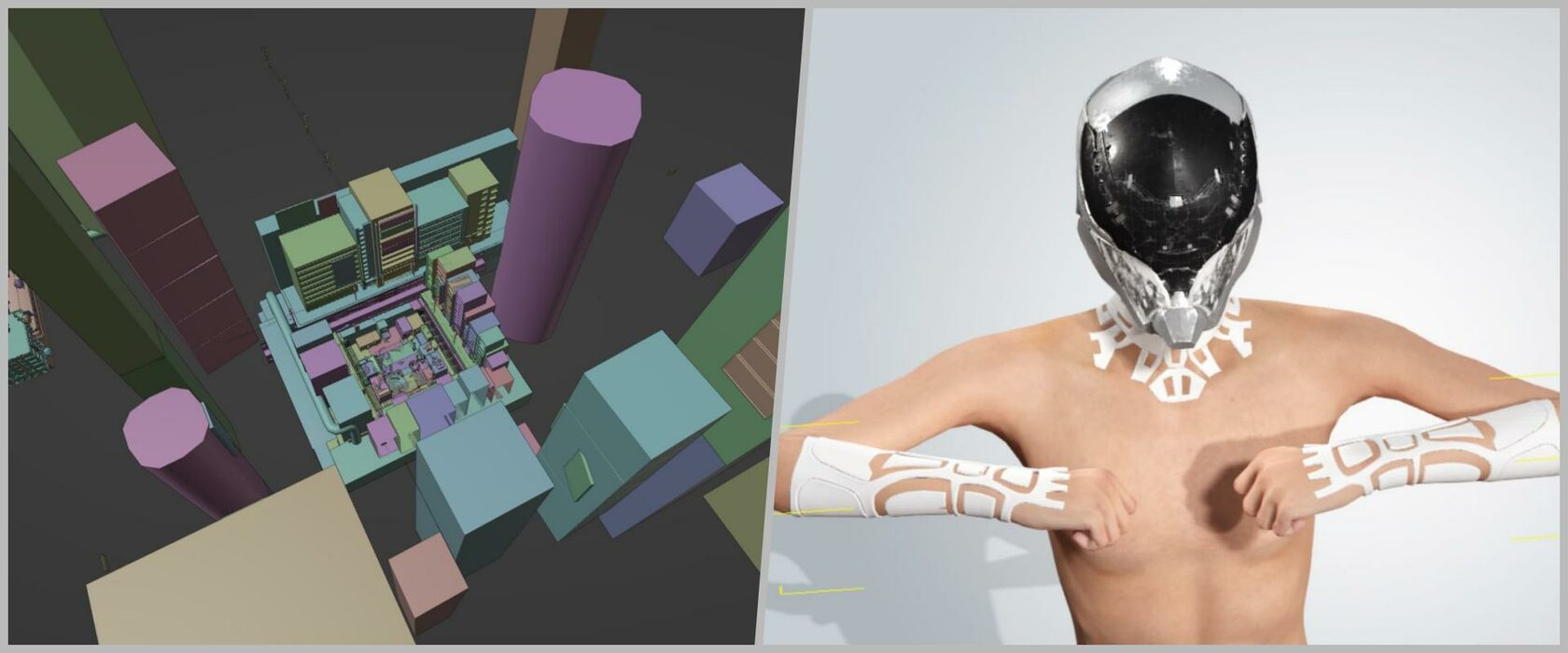 Blender struggles with heavy, high-poly scenes, so I had to work smart with low-poly geometry and textures that were good enough to do the job without slowing down the process. It's a testament to the innovation needed when you're building a detailed world with limited resources.

Our main challenge in this project was the fabric simulation. Unfortunately, Clo3D's physical model isn't quite cut out for simulating fast-moving clothing during stunts and jumps. So we had to spend some time troubleshooting the simulation errors.

This project became a great exercise in Blender animation for me, providing the opportunity to learn numerous optimization hacks for rendering with Eevee.
Character's clothing
The original look designed by
Pamikov
was stunning in physically accurate renders, but my animation required real-time rendering, so we had to redo and reconfigure all the materials for the project.
Credits:⠀
▶ Directed (and also Rigger, Animator, Editor, Sound Designer, Lighting Artist, CG Artist, etc.) — @Voogie⠀
▶ Character outfit design and fabric simulation — @pamikov⠀
▶ Freerunner — @cherepko⠀
▶ Music — @untiltheveryend⠀
▶ Assets used in the scene from — @Sketchfab⠀
▶ Video inspired by the universe of @stray.game⠀
▶ Software — blender.official Evee, Marvelous Designer, Substance Painter, Reallusion⠀
▶ Rendered using Blender Evee